Bio
Cooking up a storm since 2012, The Schmoozenbergs bring you their special blend of gypsy jazz delights, with Parisian and Eastern European flavours, and liberal sprinklings of high-energy folk. Stir in their bouncing rhythms, irresistible melodies and playful improvisations, and enjoy a deliciously moreish musical feast.
With two guitars, fiddle and double bass, The Schmoozenbergs play spirited, lively instrumental tunes to put a smile on your face and a spring in your step.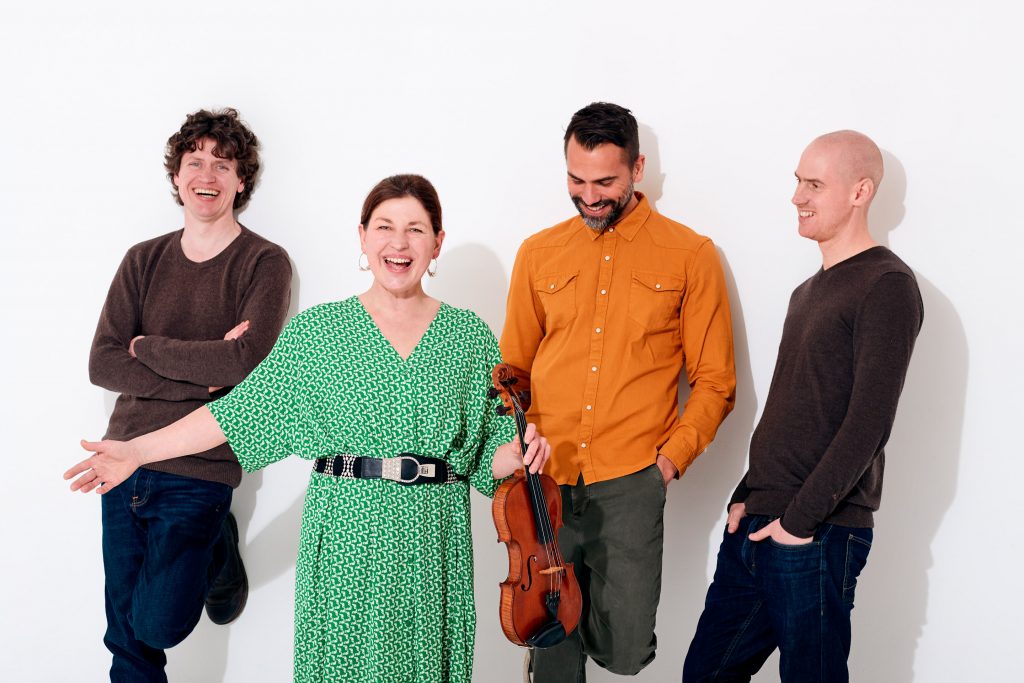 A busy live band, they have played throughout the country, from tiny shows to huge shows, including performances at some of the UK's biggest festivals (Glastonbury, Boomtown, Shambala, Green Man), concert halls, arts centres, jazz clubs, bars, swing dance events, village halls, cafés, campfires and street corners.
Based in Bristol, UK, The Schmoozenbergs started life as a duo, born out of the living room guitar twiddling of old friends Sam Stennett and Tom Brydon-Smith. Over the years they expanded, with double bassist Ron Phelan joining in 2015, and fiddle player Gina Griffin joining in 2017. In 2017 they recorded their eponymous first album (Ben Capp Studios, Bristol). Consisting of lively interpretations of a selection of classic jazz tunes, this album was inspired by the timeless music of some of their great musical influencers (the likes of Django Reinhardt, Stéphane Grappelli, Duke Ellington and Fats Waller). In 2019, supported by funding from Arts Council England, they recorded their second album, this time a collection of original music entitled 'Awaken' (Real World Studios, Box). This was their moment to bring something new to the table, and to create a repertoire of fresh compositions that both paid homage to the roots of the musical style they play and love, whilst also incorporating wider influences and ideas to allow their own personalities and identity as a band to shine through. In their 5 star review, The Morning Star said that Awaken was 'played throughout with much gusto…it projects an infectious joie de vivre that will healthily up any heart beat.'
So…there we are…Heart-warming, hip-swinging music for all.
---
Press Quotes:
"Upbeat good-time music"
(Songlines)
"Simply sublime"
(folkworld.eu)
"A voyage of delight, a foot tapping whirl of expressive energy"
(Liverpool Sound and Vision)
"Unashamedly good time, beautifully played music"
(Fatea Magazine)
"The musicianship is excellent, laidback and accomplished…played with love and abandon"
(Folkradio.co.uk)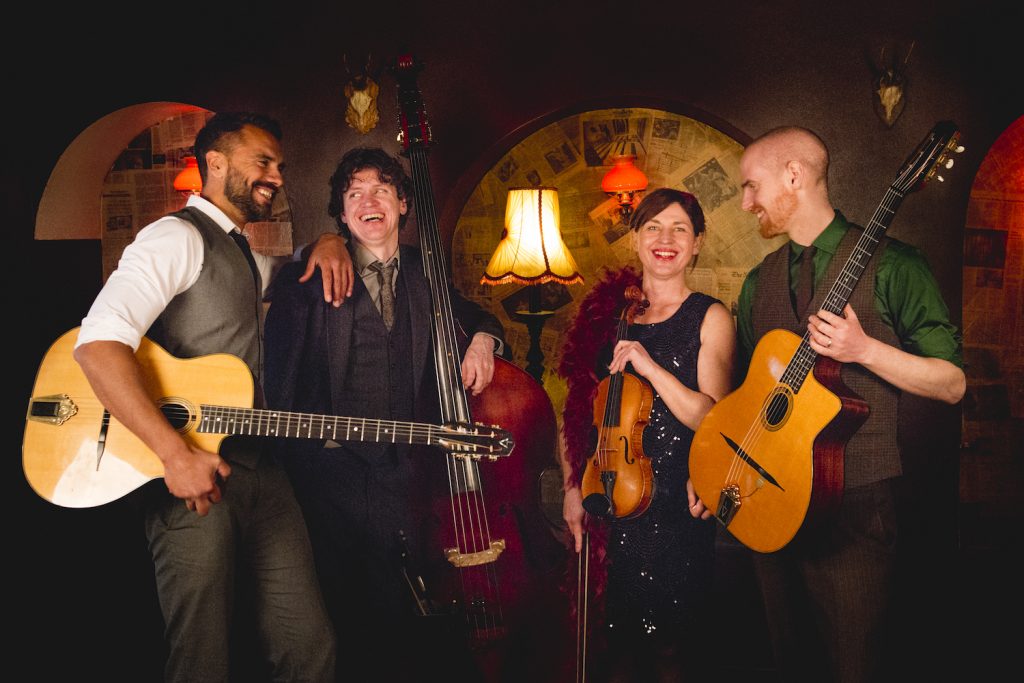 Schmooze
(Yiddish. Verb.)
"To talk with someone in a lively and friendly way, typically in order to impress them"